Definition
The idea behind responsible investing (RI) is quite simple; generate a return and make the world a better place.
RI is based on a stock selection process that considers not only the potential for return, but also the activities and practices of the issuing companies with a view to promoting sustainable development.
From a strictly financial point of view, there are three aspects to RI: environment, society and governance (ESG).
For example, RI might involve assessing:
A company's energy management policy (environment)
The working conditions of employees (society)
Executive compensation and shareholder rights (governance)
RI does Not Perform Well
False Between 2000 and 2017, the Jantzi Social Index® , which tracks RI, achieved a return higher than that of the S&P/TSX 60 , which contains the heavyweights in the major sectors of the Canadian economy.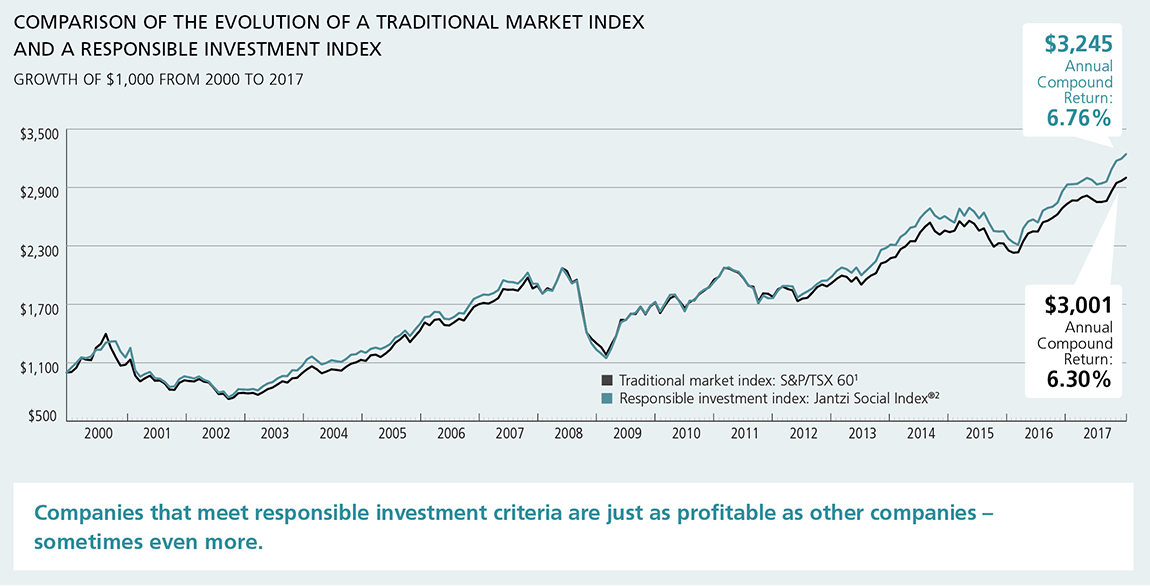 It's For Idealists
Analysts estimate that companies that meet RI requirements are better equipped to face the challenges of the global economy. It's why their stocks are drawing more and more institutional investors known for their meticulous and pragmatic approach; pension plans, labour sponsored funds and religious organizations.
The RI Market is Underdeveloped
It's actually quite the opposite. According to the Global Sustainable Investment Review, global RI assets as of December 31, 2013, amounted to $21.4 billion USD, of which $945 million USD lies in Canada.
Desjardins is a national pioneer in RI.
1990: Creation of the Desjardins Environment Fund
2009: Launch of SocieTerra Portfolios
2013: $1 billion in RI assets under management
2015: Introduction of additional SocieTerra Funds
Our RI approach lies on four main strategies.
Exclusion screening: Arms, nuclear energy and tobacco companies are immediately filtered out.
ESG evaluation: Our analysis considers environmental, social and governance practices in addition to financial data.
Shareholder engagement: As a shareholder, we make our presence known by:

Speaking with companies about their practices
Making proposals at general assemblies, to stimulate change
Exercising the right to vote

Collaboration: Along with other institutional investors, we join coalitions to advocate for improvements in corporate policies, industry standards and regulations.
Funds and portfolios may contain securities in companies that belong to the energy and materials sectors, which includes tar sands, shale gas and mining development.
We have three good reasons for making the decision to include these sectors.
Relative importance
Both sectors alone represent a significant portion of Canadian market capitalization. Neglecting them would go against the rule of diversification and jeopardize returns.
Responsible attitude
We expect that the companies in question will be effective in managing risk, correct any potential mistakes and demonstrate a constant desire to improve, perhaps even becoming a model for their competitors.
Shareholder role
We promote change from within companies
Responsible investing means leaving a positive impact on both the planet and your finances. Contact your advisor for more information.
The Jantzi Social Index® (JSI) a socially screened, market capitalization-weighted common stock index modelled on the S&P/TSX 60 Index, consisting of 60 Canadian companies that pass a set of broadly based environmental, social and governance rating criteria. | Source: www.sustainalytics.com
The S&P/TSX 60 Index is designed to represent leading companies in leading industries. Its 60 stocks make it ideal for coverage of companies with large market capitalizations and a cost-efficient way to achieve Canadian equity exposure. The S&P/TSX 60 Index also represents the Canadian component of Standard & Poor's flagship S&P Global 1200 Index. | Source: www.tmxmoney.com
The Desjardins Funds are not guaranteed, their value fluctuates frequently and their past performance is not indicative of their future returns. Commissions, trailing commissions, management fees and expenses all may be associated with mutual fund investments. Please read the prospectus before investing. Desjardins Funds are offered by such registered dealers as Desjardins Financial Services Firm Inc., a mutual fund dealer belonging to Desjardins Group that distributes the Funds in caisses throughout Quebec and Ontario.