Investor Resources
Definition
An investment fund is a collective investment in securities. By purchasing units, you join other investors with objectives similar to your own. The pooled assets are entrusted to a portfolio manager, whose goal is to generate a return. Changes in the market will lead to fluctuations in unit value. Any profits or losses generated by the fund are distributed between unit holders in proportion to the number of units they own.
Advantages
Professional Management
Portfolio managers use sophisticated tools to determine which securities to purchase and which investment options are best.
Diversification
With even a modest sum, you can acquire shares in all of a fund's securities, reducing the risk of asset concentration.
Buying Power
Investment funds give you access to specialty and international markets that would otherwise be reserved only for seasoned and/or wealthy investors.
Simplicity
It is easy to open and modify an account. The required upfront investment is often very affordable. You can also sell your units at any time.
Registered Plan Eligibility
Investment funds may be held in TFSAs, RRSPs, RRIFs, LIFs and other plans.
Income
As a unit holder, you can benefit from investment income in the form of either cash or additional units.
This is called interest or dividend income. Disbursement frequency will vary according to the fund.
In addition, at the end of the year, the fund manager may decide to distribute the capital gains accumulated after having sold some of the securities in the portfolio.
These gains are distributed in proportion to the number of units held by each investor.
Some investment funds offer a fixed monthly distribution which has a fiscal benefit, which is an advantage for retirees.
Lastly, you stand to make a capital gain upon selling your units if they are sold for a higher price than you originally paid.
How to Choose
There are a number of funds on the market, which can be divided into three main categories.
Fixed Income Funds
Assets invested in treasury bills, government and corporate bonds, etc.
Growth Funds
A portfolio made up of shares from domestic or international companies
Balanced Funds
These include both shares and fixed income securities.
To find out which fund is best for you, you need to determine your investor profile. Your advisor will guide you through this essential process.
You will need to clearly answer three questions.
Your Objectives
You may be looking to accumulate capital for retirement or to finance a short term project, for example.
Investment Horizon
If you intend to keep your units for at least 10 years, you might opt for growth funds, which maximize their return potential over the long term.
Risk Tolerance
Your investment should not be a cause of concern in the event of a market downturn.
1. Fees
As is common in the industry, all investment funds have fees attached. Some are added on when you make a transaction, such as a purchase, sale or transfer of funds. Others are deducted for as long as you hold your mutual funds. These include management costs.
2. What is a Management Expense Ratio?
The management expense ratio (MER) represents the total annual expenses required for the fund to operate. The MER is a percentage of the fund's total assets. In concrete terms, it can amount to 2%, even 3%, reducing the fund's return by the same percentage. The MER depends on the type of product. A bond fund, for example, is likely to be less costly than an equity fund, for which choosing securities demands greater expertise.
3. What are the Components of an MER?
The ratio takes into account three main expenses.
Management fees
This covers the fees paid to the investment fund and portfolio managers; the trailing commission, if any, given to your brokerage firm and investment advisor; and other related charges.
Fixed administrative fees
These include legal and accounting fees, bookkeeping and other common expenses.
Other fees
These include any applicable taxes, borrowing expenses and all fees incurred in obtaining external services.
4. What is a Trailing Commission?
Trailing commissions are remuneration for the advice you receive. The fund manager pays trailing commissions each year to the financial firm that sold you the fund (a stock brokerage, for example). This firm may then allocate a portion of its commission to your advisor. Trailing commissions are included in the fund's management expense ratio.
5. What are the Acquisition Costs for Desjardins Funds?
Charges may be incurred when you buy or sell units, depending on the category or series of units you choose.
Purchase Fee
This is also referred to as a "front end load" or "upfront fee." It may be negotiated with your brokerage firm and will be deducted from your investment. For example, with a 2.5% purchase cost, the net amount of a $1,000 investment will be $975.
Redemption Fee
Also known as a "back-end load" or "contingent deferred sales charge" or "exit fee", it is non-negotiable and charged only when you sell your units. It decreases over time to nearly nothing after six or seven years.
Low Load Sales Charges
As the name suggests, this is lower than the typical redemption charge and runs out more quickly, to 0% after approximately three years.
Fees
In certain cases, there will be no charge, but instead a fee based on the value of your assets.
You Deserve One
You are unique. So is your portfolio.
There is no shortage of economic and financial information, such as tips, tricks and investment techniques on the Internet. Don't settle for cookie cutter formulas and stereotyped methods. An advisor will offer customized solutions and personalized strategies that are always designed to suit your specific needs. Your advisor will monitor your account, ensure that your decisions are carried out and help you achieve your goals. Your advisor is your ally.
Better Results
An advisor client relationship should be long term
A study conducted in 2012 showed that having an advisor raises the probability that an individual will save, and that savings rates increase with the length of time an investor works with an advisor.
This gap only widens with time.
###

| Length of relationship | 4 to 6 years | 7 to 14 years | 15 years + |
| --- | --- | --- | --- |
| Added value of advisor | 1.58x | 1.99x | 2.73x |
The same study revealed that savings rates are twice as high for households using advisory expertise (8.6%) as for those that are not (4.3%).
Peace of Mind
Your advisor is an expert.
With your best interests in mind, your advisor studies market trends to determine how they will affect your assets.
Because advisors belong to a financial services or securities brokerage firm, they are governed by regulatory compliance and a code of ethics. Their activities are monitored.
They have access to financial planners, tax specialists and accountants – the professionals that are likely to have a hand in managing your assets.
Your advisor has you covered
Services Offered
Evaluating your personal, family, professional and financial situation
Determining your investor profile
Developing a savings plan that will allow you to achieve your goals
Proposing a method of asset allocation based on your needs and objectives
Recommending investments and/or securities
Preparing your retirement
Monitoring your investments
Encouraging and facilitating saving
Rebalancing your portfolio
Maximizing potential returns and minimizing risk
Preparing your retirement
Estate planning
Carrying out transactions
Guidance at every stage in your life
Finding an Advisor
Ask your neighbours, colleagues and friends; they're sure to have one or two recommendations.
Don't be afraid to meet with a number of professionals before making a decision. Here are a few questions to keep in mind.
What type of educational background do they have? Do they receive ongoing training?
What licences do they hold? Do they belong to any professional associations?
Who are their main clientele? What experience do they have in the financial industry? Can they provide you with references?
What is their investment policy? How do they choose investment funds and or stocks and bonds?
What type of remuneration do they prefer?
When and how will they get in touch with me? How often will you be meeting?
Do they work closely with tax specialists, accountants and notaries? To which firm or financial institution do they belong?
The most important criterion is a partnership that clicks
Source: An Econometric Analysis of Value of Advice in Canada, Claude Montmarquette and Nathalie Viennot-Briot, CIRANO (Center for Interuniversity Research and Analysis on Organizations), 2012
Definition
The idea behind responsible investing (RI) is quite simple; generate a return and make the world a better place.
RI is based on a stock selection process that considers not only the potential for return, but also the activities and practices of the issuing companies with a view to promoting sustainable development.
From a strictly financial point of view, there are three aspects to RI: environment, society and governance (ESG).
For example, RI might involve assessing:
A company's energy management policy (environment)
The working conditions of employees (society)
Executive compensation and shareholder rights (governance)
RI does Not Perform Well
False Between 2000 and 2017, the Jantzi Social Index® , which tracks RI, achieved a return higher than that of the S&P/TSX 60 , which contains the heavyweights in the major sectors of the Canadian economy.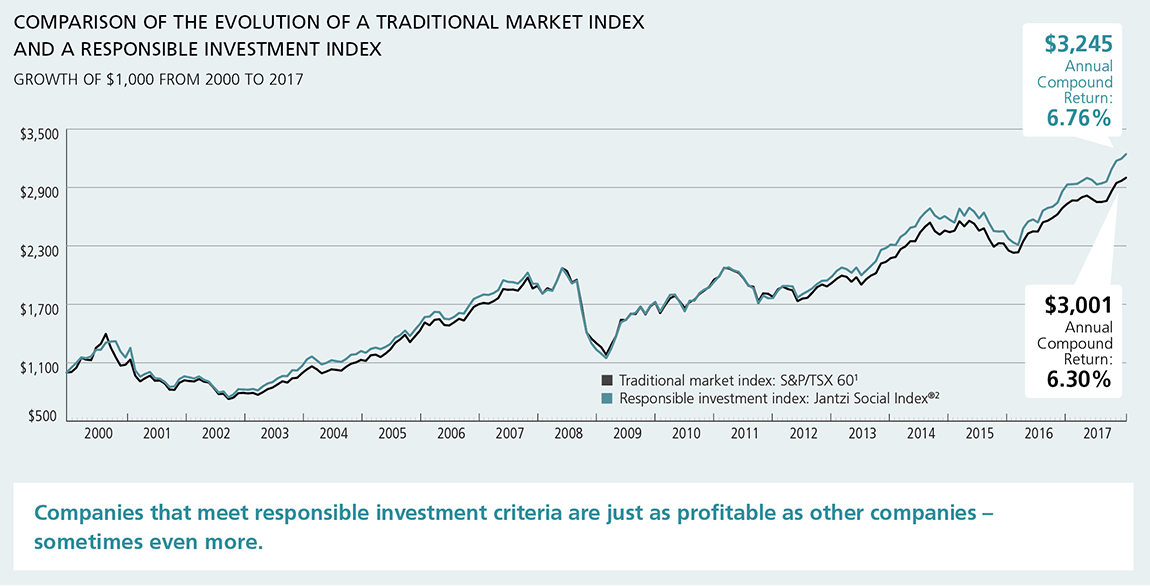 It's For Idealists
Analysts estimate that companies that meet RI requirements are better equipped to face the challenges of the global economy. It's why their stocks are drawing more and more institutional investors known for their meticulous and pragmatic approach; pension plans, labour sponsored funds and religious organizations.
The RI Market is Underdeveloped
It's actually quite the opposite. According to the Global Sustainable Investment Review, global RI assets as of December 31, 2013, amounted to $21.4 billion USD, of which $945 million USD lies in Canada.
Desjardins is a national pioneer in RI.
1990: Creation of the Desjardins Environment Fund
2009: Launch of SocieTerra Portfolios
2013: $1 billion in RI assets under management
2015: Introduction of additional SocieTerra Funds
Our RI approach lies on four main strategies.
Exclusion screening: Arms, nuclear energy and tobacco companies are immediately filtered out.
ESG evaluation: Our analysis considers environmental, social and governance practices in addition to financial data.
Shareholder engagement: As a shareholder, we make our presence known by:

Speaking with companies about their practices
Making proposals at general assemblies, to stimulate change
Exercising the right to vote

Collaboration: Along with other institutional investors, we join coalitions to advocate for improvements in corporate policies, industry standards and regulations.
Funds and portfolios may contain securities in companies that belong to the energy and materials sectors, which includes tar sands, shale gas and mining development.
We have three good reasons for making the decision to include these sectors.
Relative importance
Both sectors alone represent a significant portion of Canadian market capitalization. Neglecting them would go against the rule of diversification and jeopardize returns.
Responsible attitude
We expect that the companies in question will be effective in managing risk, correct any potential mistakes and demonstrate a constant desire to improve, perhaps even becoming a model for their competitors.
Shareholder role
We promote change from within companies
Responsible investing means leaving a positive impact on both the planet and your finances. Contact your advisor for more information.
The S&P/TSX 60 Index is designed to represent leading companies in leading industries. Its 60 stocks make it ideal for coverage of companies with large market capitalizations and a cost-efficient way to achieve Canadian equity exposure. The S&P/TSX 60 Index also represents the Canadian component of Standard & Poor's flagship S&P Global 1200 Index. | Source: www.tmxmoney.com
The Desjardins Funds are not guaranteed, their value fluctuates frequently and their past performance is not indicative of their future returns. Commissions, trailing commissions, management fees and expenses all may be associated with mutual fund investments. Please read the prospectus before investing. Desjardins Funds are offered by such registered dealers as Desjardins Financial Services Firm Inc., a mutual fund dealer belonging to Desjardins Group that distributes the Funds in caisses throughout Quebec and Ontario.
Following changes recommended by Finance Canada, withdrawals of overcontributions, non-qualified investments and amounts attributable to swap transactions, or of any related investment income, do not create additional TFSA contribution room. Some of this income will be taxed at 100%.
Accumulate necessary capital
Will You Have Enough
In order to maintain the lifestyle you're accustomed to when you retire, you will need an annual income equivalent to roughly 70% of your gross salary at retirement.
Why 70%? Because certain expenses disappear or decrease once you stop working, e.g. professional or union fees, transportation, clothing, etc.
We use 70% as a target. Retirees who are particularly fit and active will want to have a little more flexibility – anywhere from 75% to 85%. It all depends on your plans.
Lengthy Retirement
Many people prefer to leave the job market early, often once they have reached their 50s.
Moreover, advances in medicine continue to extend life expectancy; 79 years for men and 83 years for women, according to Statistics Canada.
As a result, retirement today can last up to 25, even 30 years – in other words, approximately the same length as your active working life.
However, during these two to three decades of freedom, inflation will chip away at your purchasing power. The Consumer Price Index can be expected to rise at an average annual rate of 2%.
Your advisor will be able to provide you with detailed financial projections to paint a clearer picture.
Sources of Income
As you approach or once you have reached retirement, you will qualify for certain benefits offered through public programs:
Quebec Pension Plan or Canada Pension Plan
Old Age Security pension and, if applicable, Guaranteed Income Supplement
These benefits are only intended to ensure a minimum subsistence level and are subject to limits being easily reached. In other words, they should not be your sole sources of income.
You may be among those who belong to an employer sponsored retirement savings plan, also known as a pension fund.
These plans include annuity payments of varying amounts. Certain circumstances (redundancy, dismissal or early retirement) will lead to smaller payments.
Consequently, personal savings, investments included, are quite important in sound retirement planning:
RRSP and TFSA
Non-registered accounts
Primary and secondary residences
Rental properties
A Registered Retirement Savings Plan is Essential
Of all of the financial options you have at your disposal when planning this crucial part of your life, the Registered Retirement Savings Plan (RRSP) is, without a doubt, the best known and most popular option.
Who would say no to a making a contribution to a savings plan that is 100% tax deductible and more often than not, leads to a tax refund?
For any given year, you may contribute up to 18% of the income you earned in the previous year.
There is a maximum limit, however, set at $26,230 for 2018.
Should you invest less than the authorized maximum for a particular year, you will accumulate unused contribution room that carries forward to subsequent years.
Almost all investments are permitted, including money market securities, stocks, bonds, and investment funds.
In addition, it is possible to contribute through regular instalments, a simple and practical option.
If you are young, your investment horizon affords you the option of choosing riskier investments, namely in the stock market, which offer long term potential.
If you're nearing retirement, your best option may be investing in a conservative portfolio in order to protect your assets.
Retirement is complicated - Make it simpler by speaking with an advisor
CANSIM 2012-05-31
Statistics Canada CONSUMER PRICE INDEX FOR CANADA, MONTHLY (V41690973 series) from 1990 to 2016
Ensure your child has the means to go as far as possible
Higher Education is Expensive
The average tuition for undergraduate (bachelor's degree) students for the 2016 – 2017 school year in Canada was $6,373 (up 2.8% compared to the previous year) and $2,851 in Quebec.
Add on housing and living costs if your child attends an institution outside of your home town.
It's no secret that some young graduates enter the job market with a considerable amount of debt.
Registered Education Savings Plan
The Registered Education Savings Plan (RESP) is an investment option that allows you to set aside money to secure a bright future for your children and or grandchildren.
Under this plan, your contributions grow on a tax sheltered basis and entitle you to significant government grants, which effectively accelerate the growth of your assets.
Borrowing is good - Saving is better
Have you ever thought about taking a sabbatical leave? Are you about to have a baby? Are you in the process of renovating your home?
Whatever your plans, the steps taken to achieve your goals are the same.
Key Factors
Cost: The total amount you will need
Time frame: Your ideal deadline
Means: How much you can save without sacrificing a balanced budget
Suitable Investments
One of the benefits to putting your money into investment funds is because they are liquid and offer a strong potential for return.
To withdraw your money, simply ask your advisor to redeem units.
Regular Instalments
Planning regular instalments allow you to set the amount and frequency of the amounts to be invested and may be modified at any time.
The amount is drawn directly from your account and transferred into your investment fund portfolio, where they are used to acquire new units.
As it involves spreading out your investment over time, this technique has a balancing effect, mitigating market downturns while allowing you to benefit from market upturns.
Dipping into Registered Savings
If you would like to purchase property or return to school, you are entitled to make tax free withdrawals from your RRSP.
It's like having an interest free loan.
###
Buying a House
Returning to Studies
Investment Plan
Home Buyers' Plan (HBP)
Lifelong Learning Plan (LLP)
Maximum Withdrawal
$25,000
or $50,000 per couple
$20,000
($10,000 per year)
Repayment Deadline
15 years
10 years
Under the HBP, the repayment deadline is calculated starting on the second year following retirement.
As for the LLP, repayment is calculated from the earlier of the two following:
Five years after your first withdrawal
Two years after the last year you indicated you were entitled to the education amount on your federal tax return
Become the Beneficiary of your RESP
If you open a RESP for a beneficiary who has chosen not to pursue higher education, you have the option of designating yourself as beneficiary, thereby financing your own return to school.
Whether planning a budget, setting your savings targets, or choosing investments, you can count on the expertise of your advisor every step of the way.
Your advisor is there to help
The importance of effectively planning how to use your retirement income cannot be overstated. Which option should you turn to first - your registered plans or your personal non-registered savings? Should you convert your RRSP before or after the age of 71? What is the best way to benefit from a TFSA? What is the best way to maximize your investments and increase capital longevity? How can you spread out your withdrawals? Sit down with your advisor for the answers to all of your questions. You'll obtain a customized strategy that takes your personal circumstances, fiscal situation and potential unexpected events into account.
Annuity or Registered Retirement Income Fund (RRIF)
The law requires that you cash in your RRSP by the last day of the calendar year you turn 71. At this time, you may choose to invest your assets in an annuity or in an RRIF.
Annuity
You sign a contract with a financial institution, which provides guaranteed regular income payments.
Annuities are calculated at the rate of interest applicable at the time of purchase: the higher the rate, the more appealing the annuity.
An indexation mechanism may apply (maximum of 4% per year).
You are free of management responsibilities.
RRIF
This option puts you in control of your capital; you decide how to allocate your assets and where to invest.
You can therefore leverage market volatility.
It is up to you whether to make a lump sum withdrawal or a series of regular withdrawals.
The Life Income Fund offers the same features.
Fixed Monthly Income
Certain products, such as investment funds and portfolios, are designed specifically to give retirees a fixed monthly income. When held in a non-registered account, these investments include a tax relief mechanism that reduces the tax payable on withdrawals. Your advisor is your best resource for learning how this process works.
Ensure your final property and health care wishes are honoured
Three Important Tips
Prepare your will and your mandate in case of incapacity
After reaching a certain age, make it easier to locate and manage your investments and accounts by grouping them in a single financial institution
Make sure you have an up to date inventory of your estate and let your loved ones know where you keep your most important documents
Trust
Depending on the size and complexity of your wealth, it may be worthwhile to set up a trust.
All or part of your property will be assigned to a trustee, who will be responsible for administering it according to your instructions.
The potential advantages of a trust, whether living or testamentary, include protecting certain beneficiaries, protecting your assets, controlling how property is distributed among heirs in a blended family and, in certain cases, lowering the tax burden on beneficiaries.
Find out more from your advisor.
Philanthropy
Combining tax credits with community involvement? Why not?
During your lifetime or at death, you may make a donation of money or property, including investments and life insurance, to a foundation or charitable organization.
You may also opt for an endowment fund. This type of fund is a long term investment (rather than a one time, final gift), on which only the income is used and directed toward the organization(s) you wish to support.
Don't hesitate to speak with your advisor, who has a broader professional network of experts to call upon if needed.